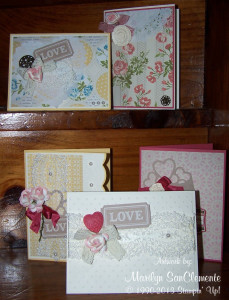 Wedding or Anniversary cards made with Artisan Embellishments kit.
These cards are just beautiful!! Perfect for an anniversary card or wedding card.    These cards are made with the Artisan Embellishment Kit that was available in Stampin' Up!'s catalog last Spring catalog.  I have 5 kits left and have cut all the card stock and designer paper to make these 5 cards.
You can purchase the kit for $20, plus $5 shipping or I will sell the directions for these cards for $4.95.  These cards are so elegant!